Commercial Solutions
Tate Provides high performance and sustainable solutions for commercial buildings. We offer a wide range of products to improve efficiency and indoor environmental quality through the use of underfloor service distribution.
Data Center Solutions
Our innovative products efficiently manage the airflow in the data center by eliminating by-pass air to maximize capacity and reduce costs.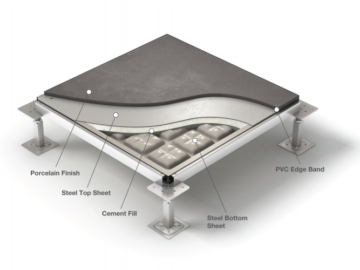 Porcelain

Tate's new line of porcelain laminated raised floor panels offer the ultimate combination of aesthetic and flexibility.
Concrete
Tate's new line of exposed concrete access floor panels offers the ultimate combination of appearance and functionality. The concrete panel consists of a hot dipped galvanized bottom sheet and filled with a controlled mixture of cement and aggregate. The PVC edge banding provides a more seamless...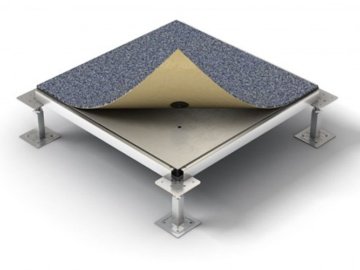 Carpet

Each PosiTile® carpet module is engineered to match one-to-one with a Tate ConCore® access floor panel. The combination of carpet and panel preserve the flexibility of the underfloor service distribution system and allow for the reuse of carpet tiles during layout changes.
Airflow Panels - DirectAire AI

The DirectAire Al is an all aluminum lightweight directional airflow panel that uses patent pending technology to angle the air toward the equipment achieving a 93% Capture Index. This means that 93% of the airflow delivered through the airflow panel is entering the face of the server rack.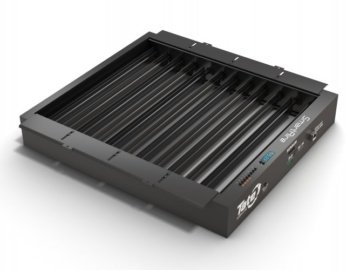 Airflow Controls

SmartAire® MZ dampers offer automatic balancing by delivering the right amount of air to the equipment in your data center at the right time to maintain the proper inlet temperature to your data center. Tate's SmartAire® MZ measures the air temperatures in your data center at the face of the rack.
PowerAire

Tate's PowerAire fan assist module is designed to provide a blast of cooling through an individual airflow panel for data centers. Multiple Control options are available to automatically turn on when conditions require additional cooling.