APCO - Detox the air
The award-winning APCO system (Advanced Photocatalytic Oxidation) represents an entirely new type of air purifier. APCO is installed in the ductwork of the central air system where it scrubs the air as is passes by. APCO's unique combination of UV-C light and activated carbon achieves  unmatched germ and odor reduction without producing any harmful ozone. APCO is particularly effective at reducing odor-causing volatile organic compounds (VOCs) which include toxic chemical vapors like formaldehyde and toluene.
Blue Tube UV
Blue-Tube UV® is the single most popular germicidal UV light product for HVAC systems in the world. It provides essential disinfection for the central air system with a robust and innovative design. Several UV lamp and power options are available.
Purity
PURITY offers the ultimate enhancement to indoor air quality. The system features not one but three unique technologies that actively reduce airborne microbial contaminants. PURITY is energy efficient, easy to install and maintain, and is available in all common sizes.
Mini UV
Introducing the award-winning UV light system for mini-splits & other limited-space applications. Mini UV features a smaller shielded UV lamp (only 9" long with a 3/8" diameter) which is small enough to fit in the tightest of spaces.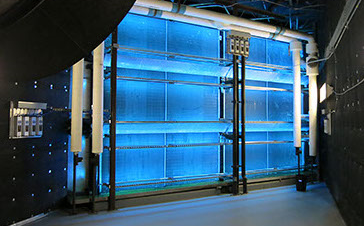 Coil Disinfection
Biological fouling (usually caused by mold) is a common problem in commercial air handlers. The cool, moist interior of the air system is an ideal breeding-ground for mold. A biofilm of only 0.002" can reduce efficiency by 37%! Unfortunately the conventional cleaning  procedures used to kill mold are expensive, labor intensive, and use harsh chemicals which are themselves a source of environmental contamination and a health risk to maintenance workers.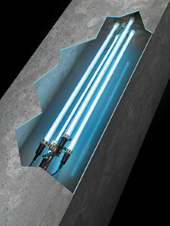 Airborne Duct System (TUV-C-ADS)
This product is ideal for hospitals and other applications where airborne germicidal disinfection is a priority. It is installed in HVAC ducts to maximize exposure time with the air. Because exposure to surface materials is limited this system uses our high-output 32" UV lamps for maximum airborne kill. Choose grid or radial configuration. More lamps can be added as needed depending on duct size and length.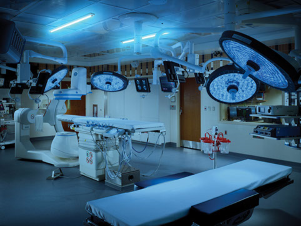 Room Disinfection
Another application for high-output germicidal UV light is sterilization of room surfaces. It is critical for facilities such as hospitals, veterinary clinics, and food processing centers to limit the spread of biological contaminants as much as possible. The Environmental Surface Disinfection System (ESDS) from Fresh-Aire UV Commercial Series addresses the need for surface disinfection in spaces that are prone to biological contamination or where biohazards must be kept to an absolute minimum.